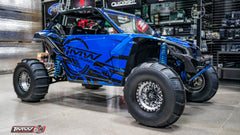 TMW ST2 door Instructions
Step 1.) REMOVE FACTORY DOORS, REMOVE THE 2 HINGE BOLTS (13MM WRENCH)
Step 2.) Remove your Factory latch from your old door frame (SAVE LATCH AND HARDWARE THEY ARE REUSED)
Step 3.) Locate latch adjustment tab
Step4.) Install latch adjustment tab on the door frame using Latch adjustment tab hardware
STEP 5.) INSTALL LATCH ( USING FACTORY HARDWARE) ON TO THE LATCH ADJUSTMENT TAB
STEP 6.) INSTALL TMW LATCH RELEASE LEVERS ON TO THE LATCHES USING Latch Release Lever Hardware
STEP 7.) INSTALL HEIM JOINTS INTO REAR OF DOORS (NOTE SOME TIMEs POWDER IS BUILT UP AND NEEDS TO BE CLEARED OUT WITH A DRILL, HOLES ARE 8MM) USING Hinge Hardware Install heims with non nylock bolts and washers on both sides of the mounting tab. make sure the heims are short as possible to start adjusting.
step 8.) lay door skin on blanket and set door frame carefully on top of the door skin and align holes. using masking tape, mark tube location for foam tape install. remove frame and install foam tape on skin.
step 9.) bolt door skin to door frame using Door skin hardware
step 10.) install upper hinge mount tabs to top of upper heim using 45-5830 M8 x 1.25 x 30 in the Hinge Hardware
step 11.) prep lower hinge pin on factory frame with sand paper to make sure heim slides over pin easily.
step 12.) install doors on vehicle, while holding door frame slide lower heim on to the lower hinge mount.
step13.) latch door into place and bolt upper heim mount into position (note: there are extra nuts in the kit if the factory nuts are stripped out.
step 14.) use upper heim mount, Heim adjustments and latch adjustments to line doors up and get them working properly
step 15.) lastly use adjustment slots in the latch release lever so that it releases the latch properly (taking time to do this will make your doors much more enjoyable.) TAKE TIME TO ADJUST YOUR DOORS, BEFORE YOU TAKE TIME TO PLAY..
Page 2 of 3
Step 16.) Please make sure both doors are completely latched before driving otherwise your doors will fly open causing damage to persons or property.
Note : we do like the bottom of door frame to touch the body just before final stage of latching this keeps doors from making excess noise..
This is achieved by loosening upper hiem mount and pushing bottom of door closer to body
warning; failure to tighten hardware properly and failure to take enough time to make sure parts are adjusted and functioning before use, may result in injury or damage to vehicle. This article is sold without warranty, expressed or implied. No warranty or representation is made to this product's ability to protect the user from any injury or death. The user assumes that risk.