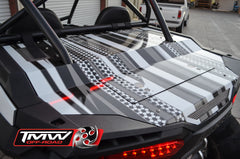 INSTRUCTIONS
How to install TMW BED COVER
(Note) Please check with TMW sales rep to make sure the TMW BED COVER will work for your application. These bed covers are designed to work with TMW Roll Cages using it with any other Roll Cage may cause fitment issues.
**If installing on speed cage you will need to use Z brackets to mount shock reservoir. You will also need shorter style side vents in on 2017 and newer cars.**
Step 1.) relocate your shock reservoirs. remove them from the roll cage and relocate them under the bed. we usually mount them on the main tube that rises vertically and connects to the roll cage. this is much easier to do before you install the roll cage. see photo A
Step 2.) Install the rear bed cover spacers. These mount in to the factory Polaris RZR flag mount area bolt comes up from the bottom through the first flat washers then threads into the spacer. another 1/4" flat washer is also used onto of the spacer between the bed cover and spacer. see photo B
Step 3.) the becover come assembled with lid and hinges and latches intact set bedcover down on top bed are roll cage tubes line up holes for rear bed cover spacers and install the 2 1/4" stainless blots
Step 4.) Now that the bed cover is aligned and in position locate the front mounting holes. use holes to mark location with sharpie on the roll cage tubes. remove the bed cover and drill the holes and install 1/4" nut certs, then reinstall bed cover and tighten all bolts up.
Step 5.) Install the support plates on the front edge of bed cover as shown. see photo D.
Step 6.) Enjoy you the new look and function of your ride.
Trunk Installed
Image A
Image B
Image C
Image D
Lid Shock installed